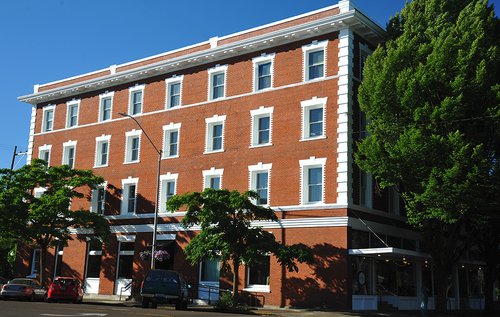 Julian Hotel Apartments
150 SW Monroe Ave
Corvallis, OR 97333
541.753.0253 – Leasing office
~Enlaces en Español abajo
The Julian Hotel Apartments is a historic apartment building located in downtown Corvallis that provides affordable studio and one-bedroom rentals to elderly or disabled households who qualify and are earning 50% or below the area median income (AMI) in Benton County. This property overlooks the Willamette River and is in the heart of downtown Corvallis with easy access to parks, the river walk, biking and other activities. It is just minutes away from the library, post office, grocery store, pharmacy, downtown businesses, restaurants and the central transit station for the free city bus service.
There is project-based Rental Assistance (RA) available at the Julian through Linn-Benton Housing Authority (L-BHA). Project-based RA is a government subsidy designed so that a tenant with RA does not pay more than 30% of their adjusted gross income for shelter costs. Applicants will be selected for RA according to L-BHA and HUD regulations.
| Bedrooms | Unit Style & Location | # of Units | Sq Ft | |
| --- | --- | --- | --- | --- |
| Studio | Apartments | 5 | 328-383 | |
| 1 bed/1 bath | ADA accessible apartment | 2 | 505 | |
| 1 bed/1 bath | Apartment | 28 | 397-527 | |
Rents and income are subject to change annually. Please call the property manager for current information. HUD HOME assisted units may have more restrictive requirements.
Income Eligibility
If your gross annual household income falls below the limits (based on the number of people in your household) you may be eligible to apply for residency at this rental property. The property manager can help you determine if you meet income guidelines.
How to Apply
Pick up your pre-application from Linn-Benton Housing Authority's office at 1250 Queen Ave SE, Albany, call their office at 541.926.4497 to have a pre-application mailed to you, or access the links below to view or print a copy. A completed pre-application must be returned to L-BHA in order to be placed on the wait list for the Julian. You will be notified by property management when you reach the top of the wait list.
For more information about the Julian and how to apply please click on the links below.
Para obtener más información sobre Julian Hotel y cómo aplicar, haga clic en los enlaces de abajo.
LBHA Pre-Application for Rental Assistance
La versión en español próximamente
It's nice to be able to live in a warm, comfortable environment with so many nice people. It's nice for the disabled and the elderly. It's nice for everyone. —Leslie Mendoza, DevNW [formerly DevNW] Resident
We've made new friends, and have really enjoyed the community garden. —Nancy Dodson, DevNW [formerly DevNW] Resident