"I lost my rental, my job, and most belongings in the Holiday Farm Fire in the McKenzie Valley. The road to recovery has been difficult, but I have been grateful for the tireless support DevNW has shown me as I attempt to navigate the challenges. My DevNW case manager has provided counseling about many opportunities that I otherwise would be entirely unaware of."
~ Lloyd L., Wildfire Survivor
Rebuilding in Blue River
Blue River resident, Antony A. lost his home and his business in the Holiday Farm fire of 2020. Antony, with his go-getter personality, got straight to work on rebuilding his home and his life. After starting up a community tool library for all those affected by the fire, he joined our case management program and referred so many others to do the same! Antony received a grant though our Wildfire Recovery & Resilience Account (WRRA) and was able to complete the final repairs to his home. Over the last few months Antony has been able to put new fire-resistant siding and windows on his home, along with new gutters and a heating and cooling system to help in those hot Blue River summers and cold winters.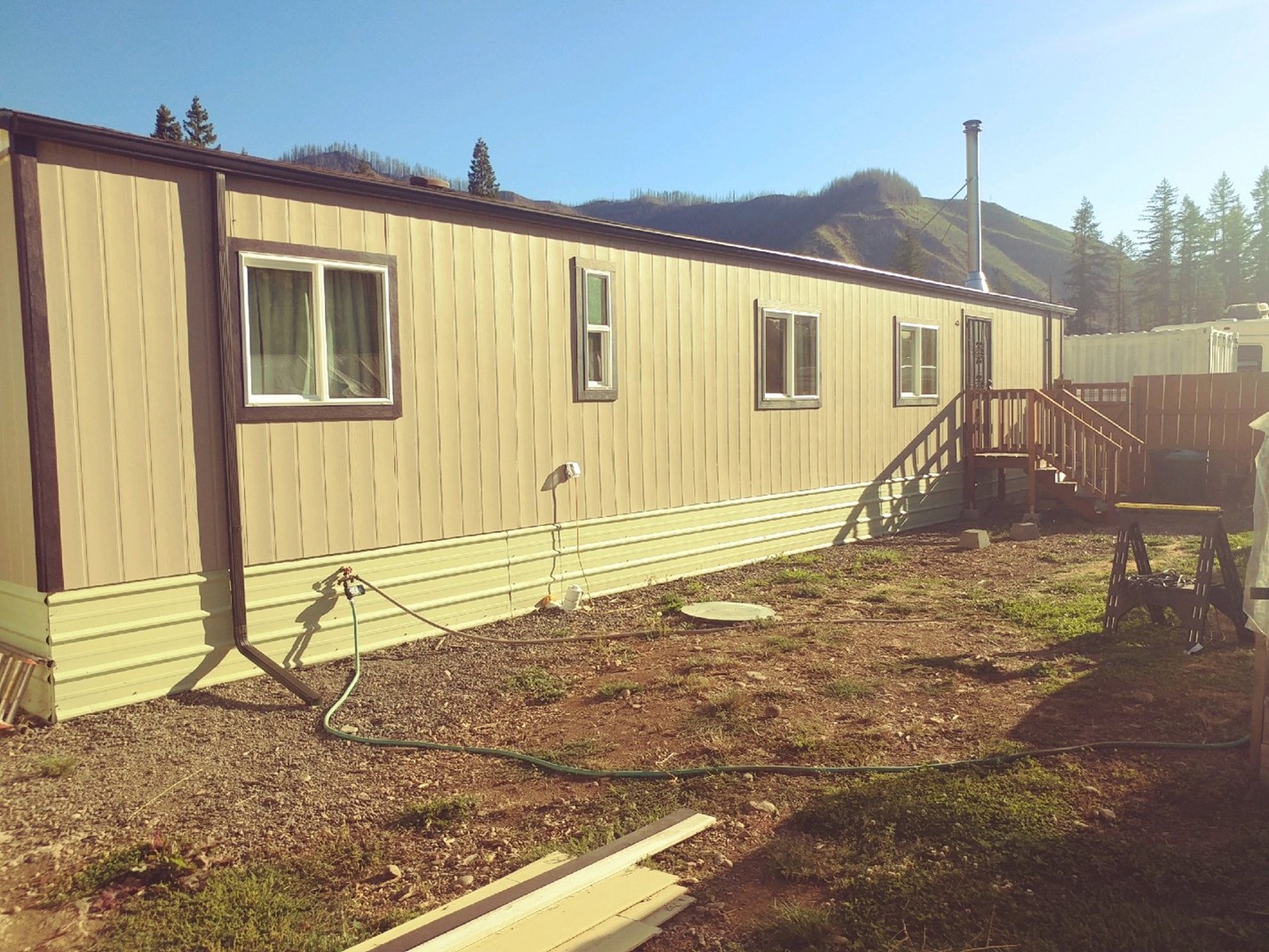 EWEB donated a home to a family that survived the 2020 Holiday Farm Fire
DevNW worked with a family who had lost their manufactured home in the Holiday Farm Fire. Their replacement home was donated by the Eugene Water & Electric Board. DevNW transferred the home to the family in March of 2022.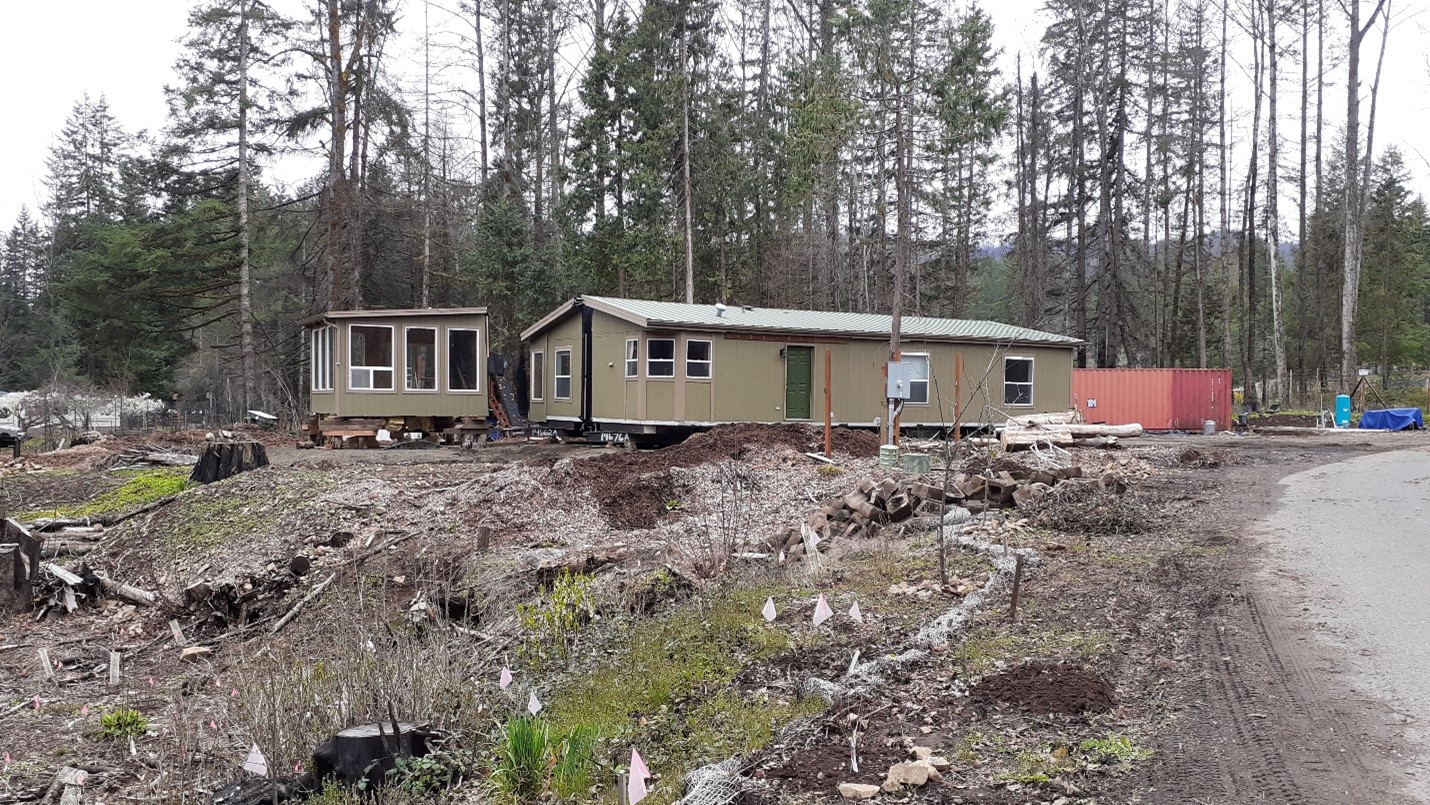 "There is a wildfire survivor that lost her RV in the fire. She had her RV set up to be ADA accessible with ramps and a shower she could use. In the process of her recovery, she had to replace her RV, but it hadn't been modified for her use. She didn't have an ADA accessible shower and was showering out of her sink for a year and a half! We've since been able to fund her shower rebuild so that she can use it with ease. We are also in the process of getting an awning so that her ramp stays dry and not slippery during the rainy months. It's incredible the small things we take for granted."
~ Luisa Palacios, DevNW Disaster Recovery Navigator
Local funding supports rebuilding
This home was completely destroyed during the Holiday Farm Fire in Lane County. Although insurance funded a replacement home for the survivor, she was unable to afford a deck rebuild. By working with a team member of DevNW's Wildfire Recovery Program, she accessed funds for the project through the Unmet Needs Roundtable, Oregon Dept of Human Services, and The Rotary Club of Eugene. The deck and handrails (replaced with fire-wise materials) provide an extension of living space.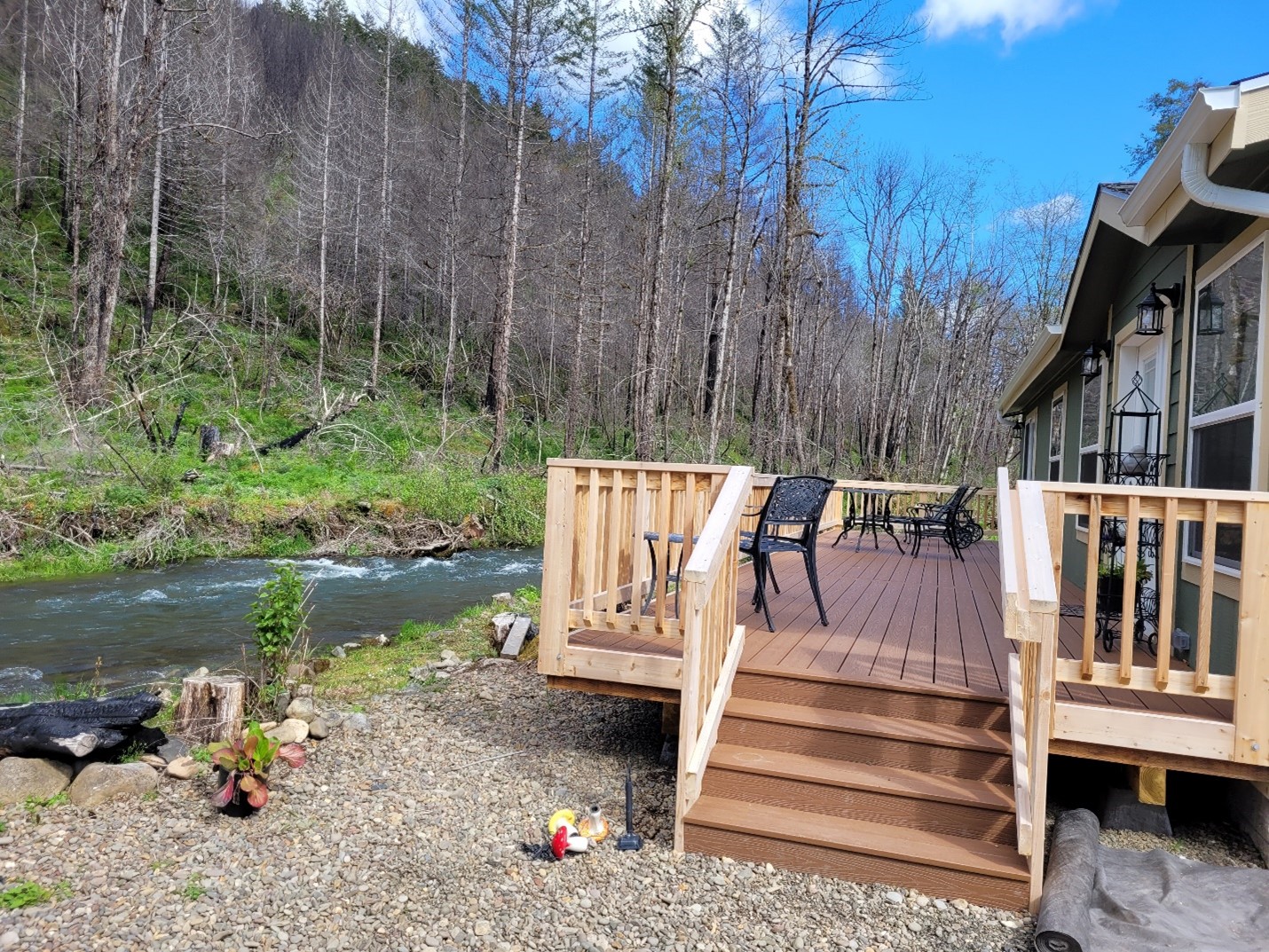 "A small engine mechanic who survived the Holiday Farm Fire lost his home and all his belongings in the fire. He was underinsured and there was a major gap in his funds received and what he lost. His tools were some of the valuable items that were destroyed. His small engine repair business was his livelihood and his main source of income. After advocating for him and presenting to the Unmet Needs Round Table, we were able to raise the funds to replace the remainder of his tools. He can now continue on with his recovery, rebuilding his home, his business, and being a contributing member to the McKenzie Valley community."
~ Luisa Palacios, DevNW Disaster Recovery Navigator
Community LendingWorks and Homes for Good partnership supports rebuilding
Lazy Days Mobile Home and RV Park, in Blue River, was completely destroyed by the Holiday Farm Fire in 2020. A little over a year later, Homes for Good (Lane County's housing authority) purchased an 8-acre portion of the mobile home park to address inequitable access to high quality housing in low-income rural communities – a problem made worse by the state's deepening housing crisis and the devastating Labor Day wildfires. Seeing the need throughout the state, CLW piloted a loan product for affordable housing development. Affordable homeownership and new manufactured housing developments are underserved by banks and CDFIs in Oregon. Today, CLW provides loans for affordable housing development, limited to nonprofit developers for projects that include at least 60% of units for families with incomes below 80% area median income. A loan from CLW's new loan program helped Homes for Good buy the Lazy Days Mobile Home and RV Park. The project will provide a resilient and environmentally responsible residential park with 21 Manufactured or Modular Homes and 5-10 spaces for Tiny Homes or RVs as long-term rental spaces for community members with low incomes.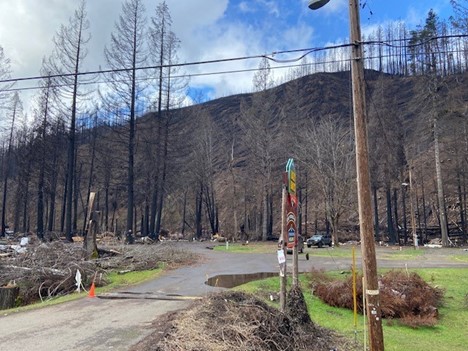 Rebuilding after the Echo Mountain Fire
In June 2021, staff from DevNW's Wildfire Recovery Program and Home Repair Program teams, joined forces in assisting a 96-year-old woman who lost her home in the Echo Mountain Fire. Insurance covered the purchase of a replacement home, but not all the repairs necessary to make the property liveable and safe. Using revolving loan funds for Lincoln County, our Home Repair team helped this survivor with septic tank and drain restoration, replacement of an electric pole that had burned to the ground, electric service reconnection, and rebuilding the back and front door entries to improve access. After completion of this project, our client—whose strength and resilience makes her the real hero of this story—was able to return to her home by December 2021.