Merging for Greater Impact: the WNHS/NEDCO Story
Tagged with: News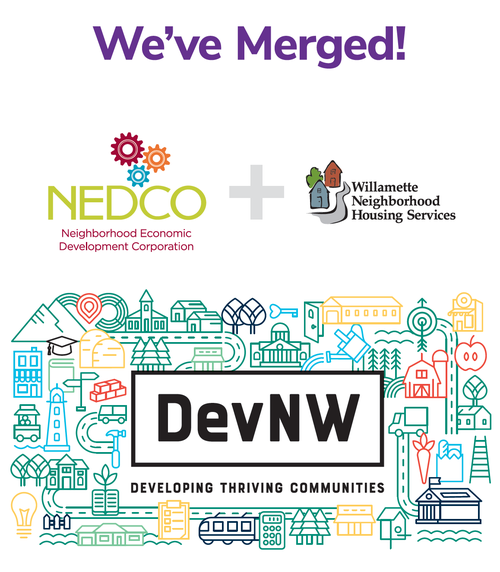 On 1/1/19, WNHS and NEDCO officially merged, creating the entity that is now DevNW. The merger follows two years of due diligence, planning, and incredible support from our partners, funders, boards, and staff. Why would we go through all that work? In short: to do more of what we do, and do it better.
Helping families to build assets, improve neighborhoods, and create healthy communities are complex, multi-faceted efforts that aim to address significant, intractable social issues like wealth inequality, and equally longstanding economic issues, like the current housing crisis. Most small nonprofits only have the capacity to work on one piece of the problem; their impact is limited. With scale comes the opportunity to work more effectively on underlying social conditions. Through a merger, NEDCO and WNHS will achieve the scale needed to develop and implement comprehensive approaches that better address these issues.
DevNW can leverage increased visibility, greater impact with policy makers, a complementary suite of programs that offer a more holistic approach, strengthened capacity in real estate development, and streamlined financial and technology systems – leading to greater impact for the families and communities we serve.
Our merger was a collaborative project from start to finish, and so is DevNW. Our board of directors includes half members from each former organization. Our executive leadership team is the same. We're keeping every office location (we now have four!), and our full slate of programs. And we're already seeing the impact of greater scale: from more Spanish-language financial literacy classes in Benton County, to greater housing development capacity in Lane County, to increased lending in Clackamas County.