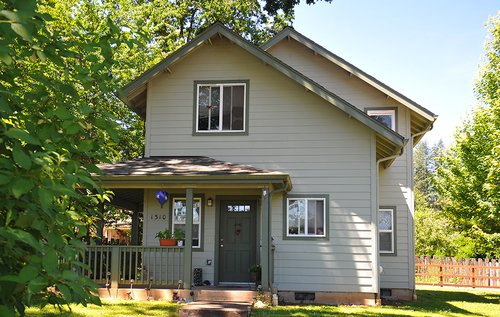 Sunset Corners II Houses
1310-1330 Sunset Lane
Sweet Home, OR 97386
541.367.4437 – Leasing office

~Enlaces en Español abajo
Sunset Corners II is made up of six single-family two and three bedroom houses located in Sweet Home that provide affordable rental housing to families earning 50% or below the area median income (AMI) in Linn County. These newer, two-story homes are located on the edge of town, border Stonebrook Creek and Strawberry Park and are only a short distance from downtown Sweet Home and local shopping.
This property has a limited number of units set aside as a preference given to applicants who both income qualify and are referrals of Service Provider agencies that assist people who are homeless, or at risk of becoming homeless. Please contact property management for questions regarding the verification process.
| Bedrooms | Unit Style & Location | # of Units | Sq Ft |
| --- | --- | --- | --- |
| 2 bed/2 bath | Two-story house | 2 | 1080 |
| 3 bed/2 bath | Two-story house | 4 | 1112 |
Rents and income are subject to change annually. Please call the property manager for current information. HUD HOME assisted units may have more restrictive requirements.
Income Eligibility
If your gross annual household income falls below the limits (based on the number of people in your household) you may be eligible to apply for residency at this rental property. The property manager can help you determine if you meet income guidelines.
For more information about Sunset Corners II and how to apply please click on the links below.
Para obtener más información sobre Sunset Corners II y cómo aplicar, haga clic en los enlaces de abajo.